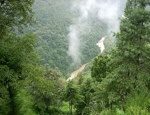 The training and collaboration in remote sensing for improved management of forests and wildlife has been ongoing for the past two years, with support from the U.S. Department of State and the U.S. Agency for International Development. The U.S. Forest Service employees are helping the Bhutanese develop geospatial data from remote sensing imagery of historical wildfires and current tree canopy cover.
Since mid-February, Bhutanese foresters Kinley Tshering and Phub Dhendup, both from the Bhutan's Ministry of Agriculture and Forests, Department of Parks and Forests, are spending most of their time at the Forest Service's Remote Sensing Applications Center in Salt Lake City. Near the end of their training, they will spend a week in Missoula, Mont. visiting the Forest Service's Missoula Fire Sciences Laboratory, Northern Regional Office and the University of Montana, Department of Forest Management.
The Forest Service has been sharing decision support tools, such as forest fire history mapping, with South Asian countries like Bhutan for decades. The burn history data comes from the interpretation of satellite imagery along with field inventory efforts. With details on historical fires, and an updated tree inventory, the country is equipped to assess their forest carbon stores.
Source: U.S. Forest Service