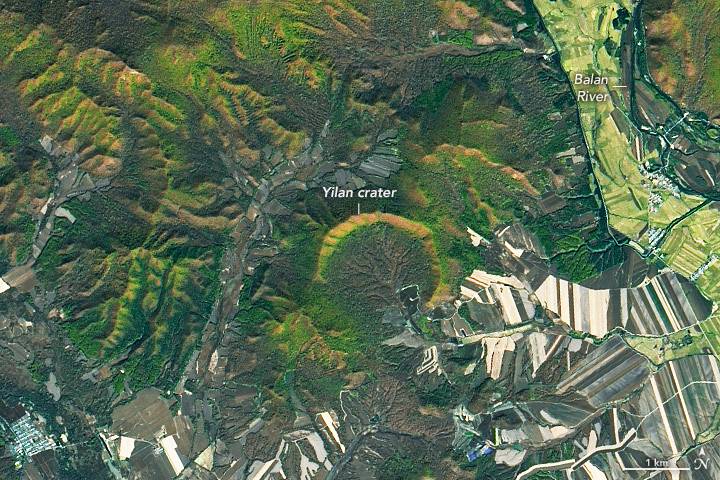 Despite China's large land area, only one impact crater—the relatively small Xiuyan crater in Liaoning province—had been discovered there prior to 2020. Then, last year, a team of geologists found another crater northwest of Yilan in Heilongjiang Province. The crater was discovered in the heavily forested Lesser Xing'an mountain range, where local residents knew it as "Quanshan," or "circular mountain ridge."
The Yilan crater, slightly larger than Xiuyan, spans about 1.85 kilometers (1.15 miles), making it the largest crater on Earth under 100,000 years old. Carbon-14 dating of charcoal and organic lake sediments suggests the crater formed between 46,000 and 53,000 years ago. Meteor (or Barringer) Crater in Arizona is also roughly 50,000 years old, but its diameter is 1.2 kilometers (0.75 miles).
In the accompanying image, acquired by the Operational Land Imager (OLI) on Landsat 8 on Oct. 8, 2021, the scalloped northern rim of Yilan crater is highlighted by fall foliage. The northern rim—which rises 150 meters (500 feet) above the crater floor—is well-preserved, but the southern third of the crater rim is missing.
Image Credit: NASA Earth Observatory image by Lauren Dauphin, using Landsat data from the U.S. Geological Survey)