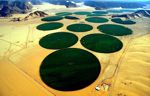 Scientists are conducting research into the flows and trails of virtual water. This work "found the biggest net exporters of virtual water to be the US, China, India, Brazil, Argentina, Canada, Australia, Indonesia, France and Germany. With many of these countries under water stress, the researchers pose the question of whether the choice to consume the limited water – particularly surface water (known as blue water) – for exports is the most sustainable pathway."
It was noted that the largest flows of water occur around the trading patterns of oil-based agricultural products – palm oil, olive oil, canola – an amount equivalent to 43% of all virtual water. Other crops including grains are nearly half of the contributing levels of these products.
It should not be surprising that agricultural production is a high contributor toward the greatest virtual water trade.
UNESCO Water Institute classes water into three categories. "The entire estimate includes a breakdown of water footprints, virtual water flows and water savings into their green, blue and grey components."
This is a fascinating report because it takes a distinct systems approach for estimating and aggregating the results. "The average consumer in the US has a water footprint of 2842 m3/yr, while the average citizens in China and India have water footprints of 1071 m3/yr and 1089 m3/yr respectively."
This process leads to the realisation that conservation alone can play a major role in influencing these numbers. It also points to the idea that improved research that measures and provides more accurate numbers are needed. Without doubt cropping and agricultural sequences change according to market prices, climate and other factors, and these variables need further investigation.
But the concept of having updated, real.time monitoring and modeling of processes like this could be extremely valuable when it comes to tracking and assigning values connected to resources.