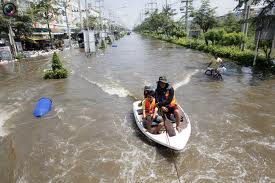 "As Thailand battles to save Bangkok from perhaps the worst natural calamity to ever strike the city, neighbors Cambodia, Burma, Vietnam and Laos are tallying up flood bills that are expected to reach billions of dollars," reports The Diplomat.
These events are causing major disruptions in the production and distribution of agricultural products. "About 6% of rice farmland is damaged in the Philippines, while in Vietnam it is reported that as much as 7.5% of the farmland is destroyed." Many Japanese businesses having been dealt a blow in through the Japanese tsunami, are now finding their factories damaged and destroyed in other southeast Asian countries where they operate – significantly impacting the production of semi-conductors, chemicals and other industrial outputs. Other infrastructure, such as subways are also being impacted by rising waters.
Integrated Flood Management (IFM) is rising up the agenda as a new approach for dealing with flood related matters. It involves the management of all dynamics within river basins and other flood risk areas.
Source: WHOBased on IFM, the World Meteorological Organisation (WMO) characterises the problem as follows:
Address only negative aspects of flooding.
Most of the time runoff constitutes an essential part of the available water resource and only poses a problem under extreme conditions.
Focus on reducing flooding and reducing the susceptibility to flood damage.
Such measures often reduce the socio-economic development potential of floodplains.
Provide ad hoc reactions and are carried out in isolation.
Specifying an issue in terms of a problem can lead to the implicit exclusion of other feasible options. The adverse impacts of a particular solution on downstream and upstream areas, on other elements of the hydrological cycle and on riverine ecosystems tend to be ignored.
Express the risk of flooding simply as the "Exceedance probability of a flood of a given magnitude on a particular stretch of river" leading to the setting of design standards for protection.
Uncertainties related to the frequency and magnitude of extreme events, possibly caused by climate change challenge the concept of a design standard for protection.
Flood risk areas managed in an integrated fashion include not only the water at the time of the event, but are greatly oriented toward planning for flood events and recognises increases in population, climatic changes and rainfall events, natural resource pressures etc.
It is clear that IFM requires the collection of vast quantitites of spatial data pertaining to topography, ecosystems, meteorology, demographic changes and ecosystems. Some of this information is available already, but much of it is not, furthermore, the development infrastructure and administrative systems are not yet in place to fully engage IFM.
This is an important goal. In the days ahead the geospatial community can be expected to bring theor tools, technologies and knowledge to focus on the problem.