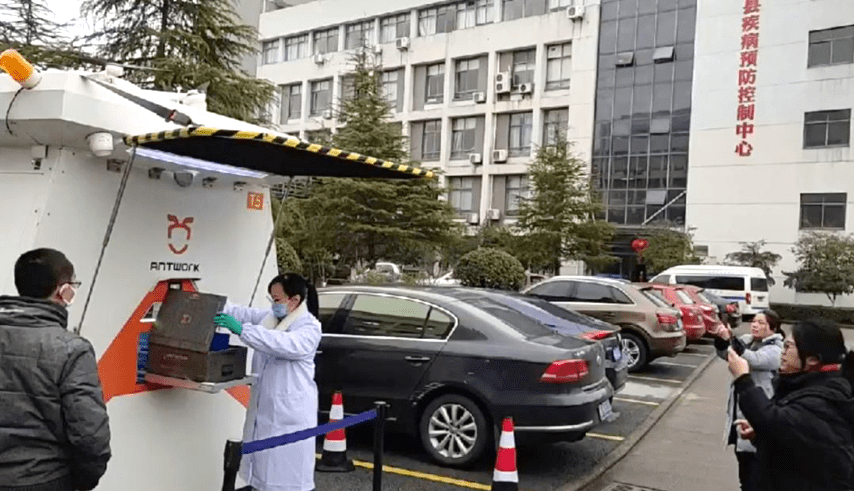 On Feb. 6, 2020, a medical delivery drone flying from the people's Hospital of Xinchang County to the disease control center of Xinchang County successfully completed the whole process of air transportation, marking the launch of the first "urban air transportation channel" to help to fight the coronavirus  (2019-nCoV), which is in a worrying outbreak in China.
Xinchang County is located in Zhejiang province, and Zhejiang province is one of the most severely virus-hit provinces, with already 1,006 patients confirmed 2019-nCoV diagnose as of Feb. 6, 2020.
At present, it is in a tense period of national epidemic prevention and control. In order to respond to the needs of epidemic prevention and control, Antwork actively contacts local hospitals, supports epidemic prevention with practical actions, fully cooperates with local governments and medical related units, and escorts the timely and rapid delivery of medical samples and protection materials through the deployment of its drone transportation network.
During the epidemic prevention and control period, Antwork took the initiative to take drone RA3 and tr7s as well as unmanned station RH1 as the technical solution, to do the transportation of medical samples and quarantine materials between Xinchang County People's Hospital, Xinchang County disease control center and Dashiju branch of Xinchang County People's hospital. In this operation, the air delivery system provided by Antwork is adopted. Its automatic and unmanned operation mode can significantly reduce the contact opportunities between samples and personnel in the transportation process, and improve the delivery speed. At the same time, the Antwork branch company (Aerodeli), which undertakes this operation task, has obtained the world's first urban drone delivery "license" issued by Civil Aviation Administration of China (CAAC) last October. The sample delivery work will be carried out in strict accordance with the certified operation procedures, which can ensure the safety of medical samples in the transportation process.
In the actual transportation process, the flight efficiency of drone has increased by more than 50% compared with the ordinary road transportation, which provides an efficient means of transportation for the epidemic prevention and control. At the same time, with more and more medical staff and ambulances being transferred to the front line, in the case of extreme personnel shortage, the use of drone transportation can also save human and material resources to the greatest extent. In addition, using drones to transport materials can effectively avoid secondary pollution of medical materials.