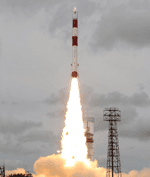 The Megha-Tropiques was launched in a low Earth orbit between 25 degrees North and 25 degrees South latitude at an altitude of 865 kilometers, inclined 20 percent relative to the equator. This vantage point will keep the satellite above the tropical belt to study humidity profiles, cyclones and flooding in the tropical zone. The orbit also keeps the satellite from flying over the French mainland, which is perhaps a first for a mission-funding country.
There are four instruments aboard the satellite:
Scanning microwave imager for detection of rain and atmosphere structures, developed jointly by CNES and ISRO
Sounder for probing vertical profiles of humidity from CNES
Scanner for radiation budget from CNES
Radio occultation sensor for vertical profiling of temperature and humidity, developed by Thales Alenia Space of France and Italy
Funding for the operation was split between ISRO (60% or Rs 90 crore) and CNES (40%), with an approximately total $98 million budget. This observation mission is just the second to to look at tropical climate globally, following on the NASA and Jpan joint mission of 1997. The mission is expected to last from three to five years time.
The three micro satellites that were launched alongside Megha-Tropiques include:
Jugnu- an Indian Institute of Technology-developed satellite designed to test a camera system that captures imagery in near infrared, along with evaluation of a GPS receiver and Inertial Measurement Unit (IMU) used for satellite navigation
SRMSat – a nanosatellite developed by students and faculty of SRM University that will monitor Carbon dioxide and water vapor using a spectrometer
VesselSat-1 – a microsatellite that carries the Automatic Identification System for ships, detecting signals from vessels at sea
You can watch a launch video here.