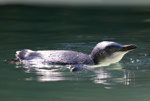 The tool greatly improves data collection work in a difficult environment, and provides a means to collect far greater detail than previously available, resulting in much better spatial analysis. HabiMAP was initially developed to solve the challenge of how to survey and map environmentally sensitive coral, sea grass and filter feeder animals that could be impacted by a large port development area for a client.
"HabiMAP significantly enhances the way we collect information, and the GIS component provides excellent mapping capabilities to visualize the data," said David Klap, principal GIS analyst, water and infrastructure services, Australia,. "This makes it easier for the scientist to detect spatial relationships or trends and is further enhanced when extra GIS layers such as bathymetry or remote-sensing information are added."
The tool has proved helpful in AECOM's work with other clients that need to assess underwater sites for environmental approval, and to develop environmental monitoring plans. With the use of a pole mounted video camera, it also increases safety because the camera can be operated from the surface without the need to enter the water.
The tool is being explored by marine scientists who could benefit by usings it to define marine habitat inventories and boundaries. The utility of the video-based input is also being explored for terrestrial applications such as highway, rail and pipeline corridor mapping.