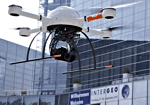 By and large INTERGEO is an exporters delight – while many technologies are used in the German marketplace, the trade show presents some of the best that the world has to offer in the geospatial and geomatics fields to the rest of the world – and several Asian companies were present, just for that reason.
Eternix Ltd. – Integrated Visualization Display – Tel Aviv, Israel
A few that I had a chance to speak with and some of the products that they exhibited include:
The show included many manufacturers of laser-based technologies, primarily for laser scanning. Other popular technologies at this event included UAVs (unmanned aircraft and helicopters) that are finding their way into forestry, agriculture, monitoring applications.
——————————————–
For Additional Coverage of This Event By Vector1 Media