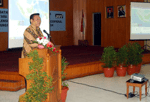 Memorandum signed by the head and head Bakosurtanal Asep Karsidi ANRI M. Menkokesra Asichin witnessed by Agung Laksono and Menristek Suharna Surapranata and the office echelon I, II, and III from both institutions.Head of the Bakosurtanal, Asep Karsidi in his speech stated that the RAN has the task to map the entire territory of Indonesia.
A second agreement was also signed on the same day that seeks to advance the use of geospatial information within the country.
Coordinating Agency for Surveys and Mapping (RAN) and the Development and Education Command Navy (TNI-AL Kobangdikal) signed a Cooperation Agreement.
Both institutions agreed to hold a Cooperation Agreement in the field of education, research and development of Geospatial Information.
Conducted by Principal Secretary Penadatanganan Bakosurtanal, Ir. Budhy Andono Soenhadi Kobangdikal MCP and Commander of Navy, Rear Admiral SE Sadiman.