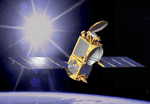 "The Korea Hydrographic and Oceanographic Administration says it has built a system to monitor currents in northwestern Pacific areas that affect South Korean waters. The system comprises of algorithms developed by the administration for estimating ocean currents based on satellite data provided by a research center in France."
Both floats and satellite altimetry is used to determine the sea level for different locations around Australia and Indonesia. Sometimes the two methods are in agreement, and other times they differ – for numerous reasons including technological, atmospheric and so on.
Float colours indicate the difference between the float's and satellite altimeter estimates of the sea level anomaly. Green signals that both observing systems are in agreement, while blue or red indicates that there is a problem we need to investigate. Unfilled circles indicate floats that did not do a complete profile. (Image: IMOS)
Currents may change because of wind, water depth, water temperatures and tidal forces etc. Tidetech provides information about several North Pacific Ocean currents including the The Kuroshio Current and The Alaska Current.
In the Korean case, "the daily map of surface ocean currents in the Arabian Sea would be essential in helping the South Korean warship track a Somali pirate boat because the information allows the warship to sail faster by taking advantage of favorable ocean currents," reported the Maritime News.
More recently the value of understanding ocean currents has become important to the energy industry. As wave energy technologies continue to innovate, they are being researched and developed with respect to improved oceanographic spatial information.
In a paper 'Korean Sustained Ocean Observations', researchers Seoul National University provide a summary and history of oceanographic monitoring for South Korea that includes satellites used, organisational structures and so on. The Korean Ocean Satellite Centre also provides useful information.
————————————-
Image Thumbnail: NASA/JPL
This is an artist's concept of the Ocean Surface Topography Mission/Jason-2 spacecraft in space.