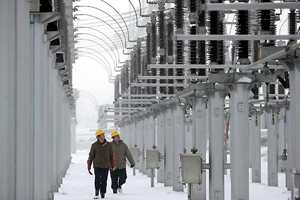 The development of mega hydro projects has been proposed for some time. Recently the 'Go West' development plan was revisited. It includes "a plan to invest more than USD $100 billion 23 infrastructure projects "to promote the fast and healthy development of the western areas," said Asian Times. There are others.
The need for power is so great, that it has been noted that the construction of nuclear generating facilities cannot keep up in terms of construction. However, geospatial technologies are being used for developing design plans of mega hydro facilities. These CAD based designs often include 3D approaches, thereby expediting the process and improving design efficiency.
In fact, geospatial tools are involved from initial surveying of these locations which depend upon total stations and other GNSS measurement technologies to the construction of roads and excavation work. As we begin to see dozens of projects come to fruition we can look forward to higher demand for surveying relate technology and planning-design collaborative software.