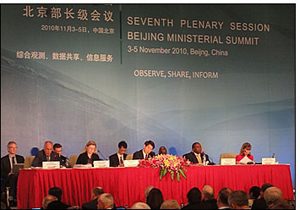 The importance of the GEOSS effort was outlined in the Beijing declaration, which welcomed a "future wherein decisions and actions for the benefit of humankind are more fully informed by Earth observations, science and associated information products and services." The declaration recognized that the Global Earth Observation System of Systems (GEOSS) represents a critical step towards advancing the goals and implementation of international environmental treaties and contributes significantly to addressing climate change, enhancing human health and safety, protecting the global environment, achieving food security, alleviating poverty and harnessing knowledge and innovation for social, environmental and economic well-being.
GEO's forest carbon tracking activities received strong support, with the creation of the Global Forest Observation Initiative. Governments also recognized the importance of GEO activities for the REDD-plus Partnership, the Climate Change Convention, and other forest-related activities. The GEO Biodiversity Observation Network was touted as an example of how GEOSS can reach out to the users of Earth observations and address the international political agenda.
Among the priorities in the coming years are:
adding to the number of data sets that can be accessed
building earth observation skills of individuals and institutions
linking the technical capabilities of GEO with global issues
attracting more users and participants
preparing for post-2015 operation of GEOSS
The group resolved to meet again before the end of 2013 to review progress of implementation against strategic targets, and to recommend governance and the role of future work beyond 2015.