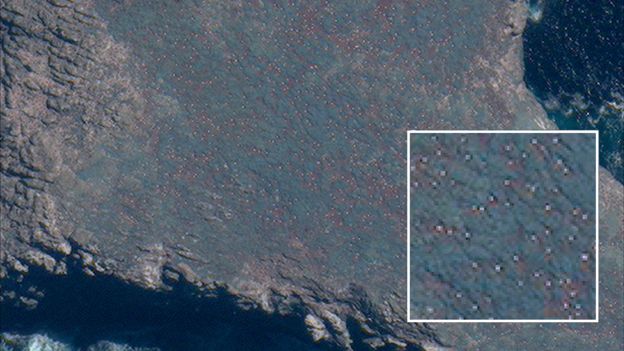 Scientists in New Zealand are using high-resolution images from DigitalGlobe's  WorldView-3 satellite to gauge the numbers of Northern Royal albatrosses, an endangered animal that nests almost exclusively on some rocky sea-stacks close to New Zealand's Chatham Islands.
The audit, led by experts at the British Antarctic Survey (BAS), represents the first time any species on Earth has had its entire global population assessed from orbit. The scientists report the satellite technique in Ibis, a journal of the British Ornithologists' Union, and It's likely to have a major impact on efforts to conserve the Northern Royals (Diomedea sanfordi).
Ordinarily, these birds are very difficult to appraise because their nesting sites are so inaccessible. Not only are the sea-stacks far from New Zealand (680 kilometers), but their vertical cliffs mean that any visiting scientist might also have to be adept at rock climbing.
"Getting the people, ships or planes to these islands to count the birds is expensive, but it can be very dangerous as well," explained Peter Fretwell from BAS.
This makes the WorldView-3 satellite something of a breakthrough. It can acquire pictures of Earth that capture features as small as 30 centimeters across. With a body length of more than a meter, the adult albatrosses only show up as two or three pixels, but their white plumage makes them stand out against the surrounding vegetation. The BAS team literally counts the dots.
Click here for more information.