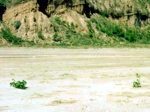 "H.E. Ouk Sokhonn, Secretary of State for the Ministry of Agriculture, Forestry and Fisheries (MoAFF), said that good soil and water management increase family income. Fertile soil means better livelihoods," he reported to South East Asia Weekly. While agriculture is a major sector contributing significant benefits to the Cambodian economy, it is not the only sector or factor contributing toward land degradation related processes. It has been estimated that "in South Asia, annual loss in productivity is estimated at 36 million tons of cereal equivalent valued at US$5,400 million by water erosion, and USD 1,800 million due to wind erosion."
The United Nations Food and Agricultural Organization (FAO) has reported on the measurement of forest degradation in 2009. That work resulted in several recommendations and observations including:.
1) An important aspect is in evaluating the impacts of human activities and land degradation processes and SLM measures on key ecosystem services (ES), as applied in the Millennium Ecosystem Assessment. One of LADA's aims is to identify the wider effects of land degradation or its reversal – land improvement – in terms of the maintenance of global environmental benefits. A focus is thus placed on LD impacts on the provisioning services and key regulating and socio-economic services.
2) Adequate accuracy and validity is ensured through combining a range of field measurements and observations and information from land users and local informants through interviews and discussions. The process of "triangulation" helps validate data and provides a broad, deep understanding of LD. Degraded areas are compared with protected or better managed areas in terms of the range of ecosystem goods and services provided and to understand LD and SLM implications on production capacity and the effectiveness of conservation and SLM measures.
Clearly, the focus of these kinds of measurements exists within the context of overall social and economic services. Regulation is seen as a means to adapt and plan for land use, taking sustainability into account. Special attention needs to be paid to the so called 'triangulation' of services.
A wide array of geospatial resources are useful in evaluating sensitive lands and for the determination of existing processes and monitoring local landscape conditions. From World Soil resources to the Asian Association of Remote Sensing, several sources of useful information exist.
An interesting paper entitled 'The Economics of Desertification, Land Degradation and Drought: Towards an integrated global assessment – A Meta Analysis' was recently published. It provides many observations that readers may find useful when considering to implement policies in their own regions to fight this growing challenge.