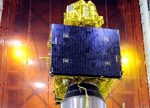 As the newspaper The Hindu printed, "Dr. Navalgund called the Resourcesat-2 "an extremely important satellite" because it had three cameras mounted on a single platform with a high resolution, medium resolution and coarse resolution. The images from the satellite would be useful in monitoring the earth's resources, including crop yield before harvest, the snow-cover in Image: Resourcesat-2 – ISROmountains, the glaciers advancing or the changes in the coastal zones and the urban landscape; locating groundwater; and realigning roads in rural areas. "You can collect data from the entire globe. So, there will be a great demand for this kind of data which is available from the Resourcesat-2. It can provide data more frequently. It will become the workhorse for monitoring the resources of the entire earth for the global community," Dr. Navalgund said.
As the pace of development expands in India, one of the considerations for development – leading to sustainability – is to include provision for environmental approvals. The Business Standard reported recently that, "NEAMA was proposed last November. But its structure and guidelines are yet to be chalked out. Once operational, NEAMA would grant environmental approvals for projects and monitor them thereafter. With the increasing number of infrastructure projects coming up for clearance, the MoEF had earlier indicated it did not have the capacity to monitor projects that had been granted green clearances. The grant of clearances under the Environment Impact Assessment notification, 2006, is an important requirement for industrial and infrastructure projects."
A similar situation exists in Viet Nam where several infrastructure related projects have been developed, and are waiting to begin, but have not received appropriate environmental approvals to date – placing them into limbo for investors.
Satellites and aerial imagery can play an integral role in the development of these plans. Furthermore, earth observation activities involving geospatial policies and administration related to monitoring provide powerful abilities for understanding land resources and developing strategies to meet sustainability goals – providing clean water, lead towards improved air quality, suitable agricultural land, improved geological understanding and management of urban sprawl.
Clearly, the launching of high-powered satellites that are capable of providing such immense benefits from nations without agencies that provide land monitoring and policy objectives for people to use such data in promising ways must remain the number one priority.