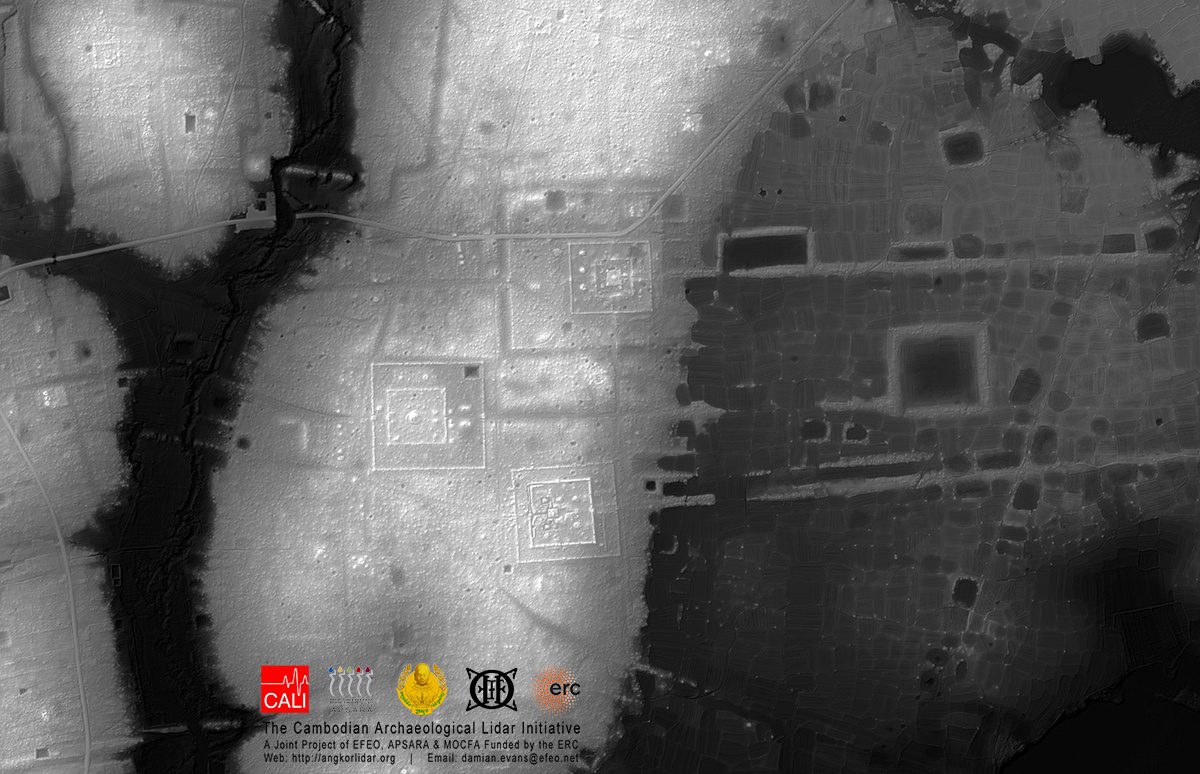 Much of Angkor has become a tangle of jungles and small farms with little evidence of medieval settlements beyond the moats' precise edges. Much of what has remained of Angkor's homes and other non-religious structures are the elevated clay mounds of their foundations, which had been designed to prevent flooding during Cambodia's intense wet season. All that changed when airborne LiDAR was applied to the archaeological mapping effort in the early 2000s.
Archaeologists working in Cambodia are using LiDAR systems that can produce maps with accuracy down to the centimeter even if the ground is covered in heavy vegetation. The system is ideal for a place like Angkor, where the city's remains are cloaked in vegetation and characterized almost entirely by elevated or depressed plots of ground.
With funding from the National Geographic Society and European Research council, archaeologist Damian Evans and his colleagues conducted broad LiDAR surveys of Angkor in 2012 and 2015. The team's mapping rig consisted of a Leica ALS70 HP LiDAR instrument mounted in a pod attached to the right skid of a Eurocopter AS350 B2 helicopter alongside a 60 megapixel Leica RCD30 camera.
The lidar company PT McElhanney Indonesia did the acquisition for CALI in Preah Vihear Province under the administrative purview of the Ministry of Mines and Energy. For the first time in centuries, people could discern Angkor's original urban grid.
For instance, analysis of the data revealed ancient iron-working sites with a very distinctive pattern of iron smelting furnaces surrounding what appears to be a infilled iron mines that turned into ponds.
They've also found a huge number of new temples, ancient dams, ponds, temples, quarries, and other evidence of Angkor-era expansion into these ranges.
Read more about the LiDAR data collection mission here.