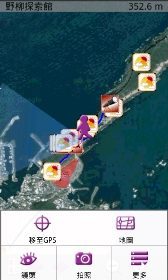 In addition to clear and intuitive interface, SuperGIS Mobile Tour 3.0 offers diverse media including text, images, video and audio for travel guide, making users browse and access vivid information of scenic spots, local hosts and websites with much ease. What's more, its GPS navigation function can assure tourists of correct and safe routes by reminding tourists that they are approaching the dangerous area or deviating from the route.
Another feature of SuperGIS Mobile Tour 3.0 is the simple installation process. Users can save map data and configuration file into a SD card or transmit data with a USB cable. Afterwards, the data can be installed in the handheld devices supporting .NET CF 2.0 SP2 or above. Moreover, SuperGIS Mobile Tour is integrated with GPS, GIS, AR (Augmented Reality) technologies, allowing users to intuitively tap the information on the panel.
With rich tour information and comprehensive support functions of SuperGIS Mobile Tour 3.0, tourists are able to design and manage their journeys in a user-friendly manipulation environment.
For more information of SuperGIS Mobile Tour 3.0, please visit www.supergeotek.com