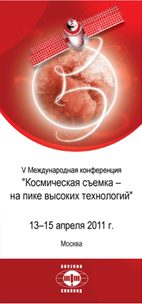 The main areas for radar data use are the quick access to spatial information and real-time monitoring, construction of digital terrain models and topography, identification and mapping of land surface subsidence and construction progress, monitoring of forests in terms of logging operations, classification of the species composition of forests, estimation the height of the forest and biomass, monitoring of agricultural land (status of the fields, classification of crops, monitoring of agricultural works, yield forecasting, etc.), monitoring of ice conditions and shipping problems for oil and gas industry, etc. Main topics of the seminars: – Radar data use in oil and gas industry (projects about the construction of a digital elevation model and monitoring of earth surface displacement made by Sovzond Company for Gazprom JSC, Lukoil JSC and NK Rosneft JSC, and by MDA for foreign companies. – Radar data use for efficient all-weather monitoring of ice in waters and navigation (up to 20 times a day).
Projects of Sovzond Company, MDA, Kongsberg Spacetec. – Radar data use in agricultural industry (projects of Sovzond Company and MDA) – Radar data use in forest industry (projects of Sovzond Company and MDA) In spite of numerous advantages of radar data including their independence of clouds and illumination many consumers are still afraid of difficulties in data processing. Within these seminars specialists of Sovzond Company, MDA and Kongsberg Spacetec will tell about universal and reproducible techniques of radar data processing aimed at achieving concrete results.
They will also demonstrate the peculiarities of modern radar data and the possibility of their processing in SARscape by the example of the performed projects. Besides the experience of Sovzond Company, MDA and Kongsberg Spacetec participants will also get acquainted with the world latest achievements in the sphere of radar data processing and with the results of the conference «PolInSAR-2011» organized by European space agency in January 2011. Please indicate your interest to participate by filling in the registration form http://www.sovzondconference.ru/2011/eng/registration.html.For detailed information e-mail to [email protected] or call +7 (495) 988-75-11, 514-83-39.