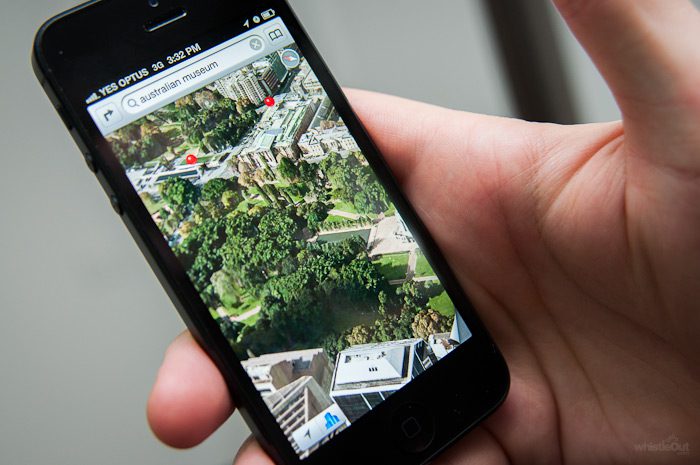 Like the wristwatch, single-function GPS devices began to fade toward obsolescence when Apple added GPS capability to clocks, cameras, music players, data processing and other technology in its iPhone3 in 2008, with Android adding the utility at about the same time. Universities and testing labs couldn't wait to see how smart the smartphone's location capability was, and when results compared favorably with those of much more expensive proprietary devices, businesses began to consider less-expensive alternatives.
Since then, smartphone GPS accuracy has gotten better, and its future looks bright, while the market for dedicated GPS devices is trending downward – 28 percent from 2011 to this year, according to Berg Insight, a Swedish research firm that tracks the industry. In that, the market has joined those of the digital camera, iPad and, yes, the wristwatch, victims of the rush to the smartphone and tablet computing.
How Good Are They?
In a 2009, test Paul Zandberger, a geographer at the University of New Mexico, found that the Assisted-GPS capability of the iPhone3 showed a median accuracy reading of 8 meters from that of a dedicated GPS device.
In 2011, the smartphone added GLONASS to its GPS capability, and the combination of U.S. and Russian navigation satellite positioning reduced Zandberger's 8 meters substantially. A 2013 test by Esri's ArcGIS platform put smartphone accuracy at 3 meters. Attached to a consumer-grade GPS receiver, the accuracy rose to 1 meter, 99 percent of the time.
By tapping into a constellation of European navigation satellites in the future, smartphone and tablet computer accuracy can only increase.
Survey-Grade Accuracy Over the Air
Your phone's onboard GPS accuracy not good enough? Just use a Bluetooth connection to tap into any number of receivers that meet your accuracy – and budget – requirements. A number of technology innovators, like Bad Elf, SXBlue and EOS make independent GPS units that provide superior accuracy in real-time, without post-processing required by many traditional GPS solutions. These amazing devices utilize a number of techniques like SBAS (Satellite Based Augmentation System) to deliver accuracy in real-time to the device at your fingertips, at a fraction of the cost and time associated with legacy handheld solutions.
Business Concerns
Concurrent with the evolution of the smartphone and tablet computers, businesses continued to develop uses for GPS data in their operations and demanded more capability from their Geographical Information Systems. They want more answers to more questions, simpler data collection and more transparent presentation. Decision-makers want some of the mystery removed from the data continuum, and they want all this done less expensively.
Still, greater use and more capacity come at a price. Investment in GIS can be staggering, and business demand for data from its field force as well as newly developed open sources, has added pressure on professionals to contribute to the bottom line, both in increased relevancy to overall revenues and in more economical operations.
Smartphone and tablet GPS capability is at the right place at the right time for companies asking a key question, "How much is that last meter of accuracy worth?"
Bring Your Own Device
The ubiquity of smartphones has enhanced their value to business. There are 2 billion in use now worldwide and 6 billion forecast by 2020, and replacement costs also are negligible and being kept that way by competition in the wireless phone industry. Lose or break a smartphone, and you're out $200, as much as 50 times less than a dedicated data transmitter.
Because employees are already familiar with the smartphone, business-related training time is short. That's one reason that research by The Aberdeen Group, a Boston firm, indicated that 48 percent of companies with a BYOD system were likely to expand it this year.
Improved batteries, more memory, better tracking technology and faster data speeds all work in favor of more smartphones and tablets for companies using them in remote areas seeking data from the field.
Capability
Cost metrics are a driving factor in the widespread migration toward smartphones and tablets in data collection and solution delivery, but device and training costs aren't the only components involved. The devices aren't for everybody.
The market for expensive survey- and mapping-grade GPS accuracy continues for those who are willing to pay heavily – the construction and cartography businesses are examples. But other industries, such as those that use road crews – utilities, oil and gas companies, mining and transportation firms, for example – are turning to smartphones and tablets for their GPS because they meet companies' requirements for accuracy and ease of use.
They like the idea of getting geo-referenced photos and video, along with notes, in near real-time from devices on which cameras and written communication capabilities improve with every iteration. They also like the constant flow of map and software updates, and the easily accessed and customizable applications and workflows that make the smartphone more nimble than its expensive GPS data-gathering forerunner. They recognize that the ability to work offline has negated problems with Internet access in remote areas.
In that, business wants what the military already has.
"Mobile apps will allow us to achieve what we always wanted to achieve: Every soldier is a sensor," said John Timar, vice president of global business development at TerraGo in a recent whitepaper. "Everyone will be carrying a way to communicate, whether it's an individual soldier or a squad leader who collects all of the information. Either way you have hundreds of thousands of people out there taking pictures and recording video. That is going to be tremendous amount of information."
They've Proven Their Value
Municipal and emergency services that answer to taxpayers like the easy use and limited training needed for devices that proved invaluable in their use in disasters such as the 2010 earthquake in Haiti and 2011 earthquake and devastating tsunami in northeastern Japan in which the smartphone drove social media in helping locate victims and also helped direct relief efforts.
Those efforts in 2011 also were helped mightily by TerraGo geospatial collaborative software and GeoPDF solutions. Hitachi Solutions Ltd., the TerraGo distributor in Japan and East Asia, created 38,501 GeoPDF maps and combined them into 42 mapbooks in just two days after the disaster. The maps played an important role in processing applications for Disaster Victim certificates.
Today, TerraGo GeoPDF uses data input from smartphones and tablets in the field.
Driving Innovation
Smartphones and tablets are at the front edge of the movement toward democratization of data. As their ability to collect data is made easier by easier-to-use devices, more people become invested in the data continuum. The devices also are at the back end of the movement in that they receive solutions and their users can put those solutions into action.
They can, for example, receive a map and probe and dissect it in one neat package, often with just by pushing one button. Work can be shared with the largest possible audience, delivered to the Web, to mobile devices and to the desktop environment. Interactivity is enhanced.
Research in 2014 by the Aberdeen Group indicted that employees in a Bring Your Own Device system were 5 percent more productive
In that, companies like TerraGo are leveraging what the communications community has made available and enabling people to make greater contributions, industries to become more efficient and their combined efforts have an impact on the bottom line.
We are doing all of that by taking advantage of GPS, one of the many capabilities that make smartphones and tablets primary drivers of the innovation of today and tomorrow.
Dave Basil is vice president, Product Development at TerraGo Technologies. Dave has more than 20 years of experience in the development of cutting-edge technology in enterprise software, cloud-based security, aviation and satellite-based navigation and surveillance solution areas.