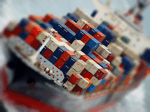 OMEGA was the first global navigation system. it consisted of 8 global stations around the world and was capable of detemrining radio signal differences between transmitters. But it reached the end of service-life in 1997.
Transit, also known as NAVSAT (Navy Sat Navigation System) was sponsored by the U.S. Navy. It supported not only warships, but a great number of freighters and other maritime vessels navigating the world's oceans. Originally developed in 1958, this system flourished until the beginning of the global positioning system in the middle of the 1960's.
Transit satellites OSCAR and NOVA circled the planet and converged at the poles before spreading out in a fan shape as they approached the equator before converging again. This meant that the best 'fixes' (quickest) were obtained at the poles because the satellites were visible together. The development of GPS by the American government heralded the beginning fo the current system we see today.
Operating continuously, it has been used for civilian use since the 1970's and has improved since that time. Trimble, for example, can point to the first instances of GPS for marine use all the way back to 1985. Ships have continuously used GPS since that time. The European proposed the GALILEO satellite system in 2004, followed by the Russian GLONASS system being designated for civilian use since 2004 also – did one trigger the later?
China, India, Japan and Australia have all communicated a desire to place GPS related satellite systems into space since the original American system. The value of GNSS to the maritime industry is tremendous. It allows vessels to travel the world's oceans, but it also contributes towards operations that are marine based like oil & gas, fisheries, dredging and search and rescue. Research is furthering the use of GNSS for maritime applications and use.
One research found that "… ultimate aim was to conduct a feasibility study into the use of GPS, and of the soon to be deployed Galileo constellation, in structural monitoring of maritime vessels. Under these conditions, a fixed base station as was used in previous structural monitoring is not a valid approach. New techniques, or variations on the current ones, were examined to deal with this lack of a fixed reference."
While we have traditionally thought of GNSS in terms of terrestrial or fixed applications involving reference points, this leads one to consider variable reference points for maritime use. Work continues, and we can be sure that new approaches and technologies are likely to further the possibilites – and to include other geospatial technologies.