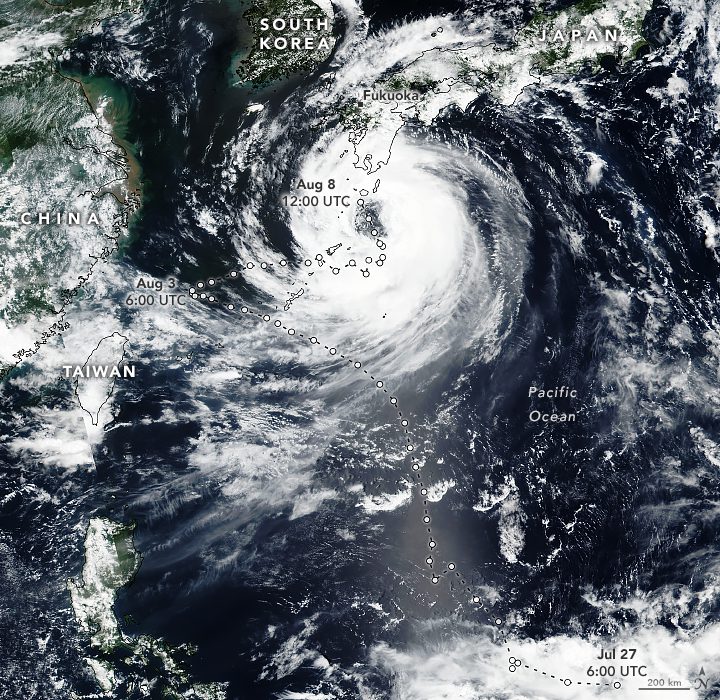 After charting a zigzagging path that delivered damaging winds and rain to Japan's Ryukyu Islands, Tropical Cyclone Khanun brushed Kyushu and began heading toward the Korean Peninsula. 
The Visible Infrared Imaging Radiometer Suite (VIIRS) on the NOAA-NASA Suomi NPP satellite acquired this image of Khanun on Aug. 8, 2023. At the time, the storm was moving to the north-northwest and had maximum sustained winds of 80 kilometers (50 miles) per hour. The storm's wandering path was the result of high-pressure systems near China and southern Japan that blocked the storm and caused it to make two sharp turns. 
According to the Joint Typhoon Warning Center, the storm was expected to make landfall near Busan, South Korea, and then continue north toward North Korea and northeastern China. Facing warm sea surface temperatures and favorable wind conditions over the Yellow Sea, forecasters expect Khanun to intensify somewhat before making landfall. 
Image Credit: NASA Earth Observatory image by Michala Garrison, using VIIRS data from NASA EOSDIS LANCE, GIBS/Worldview, and the Suomi National Polar-orbiting Partnership