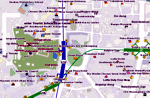 The City of Seoul, South Korea is providing a web mapping service and geoinformation portal online that enables citizens and interested parties to learn where services and amenities for the city are located. Included into the geoportal are serveral kinds of spatial information including transit, schools, libraries, restaurants, parks and museums.
Unique to this web service is the inclusion of information that is specifically designed for foreign people wandering within and visiting the city. This information is thought to be of high interest to visitors and tourism guides and services are allocated to ensure these people can find and understand the sites quickly and easily. The native Korean version of the site is also available. Geo-Games for kids are also available online.
Education about GIS is provided to allow users to become familiar with geospatial data tools and services. Statistics for the City of Seoul by region are included, highlighting spatial analysis that has been undertaken and the statistical demographics available. Information about the development of a National Spatial Data Infrastructure for Korea is available here. And best practices for SDI are also available.