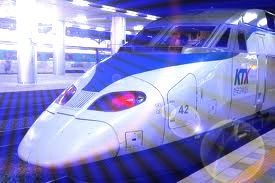 The report 'Global Competitiveness in the Rail and Transit Industry' says "Global demand for passenger and freight rail equipment, infrastructure, and related services in 2007 was $169 billion and is projected to grow to $214 billion by 2016." Rail growth throughout Asia continues to expand and is generating interest from all countries seeking to solve the challenges of moving greater numbers of people quicker.
In Australia, high-speed rail is currently in the planning phases. Preliminary work involves the following:
Identify possible undeveloped land corridors and/or existing corridors to support a high speed railway network.
Establish high-level estimates of construction costs.
Undertake geotechnical investigations in targeted areas to determine the need for tunnelling or alternative corridor alignments.
Identify the level of patronage that would be compatible with an economically-competitive and viable project.
Survey potential travel patterns to help inform station location options and market analysis on the relative value of city centre and other city rail terminals, including possible links to airports.
Assess viability of the project in the context of public and private financing options and of possible economic returns such as congestion and other infrastructure investment.
A newply proposed Cambodian rail connection "will also connect Singapore with China going through the territories of Malaysia, Myanmar, Thailand, Laos, Cambodia, and Vietnam," say one
report
. The new 257km line for this project expected to cost half a billion dollars. In addition, discussions have taken place regarding
new investments totaling $55.8bn
USD recently.
The Saudi Arabia Railway Organisation has developed a Master Plan with respect to its railway development that includes high-speed corridors. This development is anticipated to result in $20bn USD in investment over the next few years.
Qatar recently saw 300 private industry companies meeting to discuss the possibilities for developing new infrastructure for rail transport. "In creating Qatar's much-anticipated state-of-the-art integrated railway network, the Qatar Railways Company will manage the development of the West Bay People Mover, Lusail City's Light-Rail Transit System and the integrated Qatar Railways Project, which will incorporate a metro system, long-distance passenger travel, and freight transport."
Other countries in Asia are also pursuing railway investment at a rapid rate. These investments are created immense opportunities for geospatial knowledge, technologies and services. They range from aerial imaging to 3D civil engineering and surveying to measurement / infrastructure design.