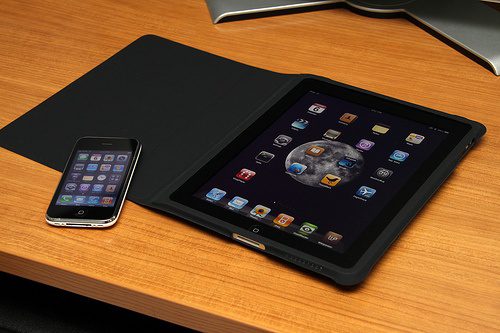 The recent announcement by Apple that it will initiate a new educational focus is important to the geospatial and geomatics industries. While the immediate benefits would appear to be students, the fact that iBooks, iPads, iPhones and iMacs are also used by teachers and educational professionals, will provide greater creative opportunities.
Several companies in the geospatial area are already developing materials for use with iPads and iPods, including GIS, surveying and design companies. For example, Esri has a wide selection of possibilities for using all 'smart' products including Apple related. Bentley offers it's Bentley Navigator for the iPad, allowing users to interact with design environments. Autodesk Sketchbook Pro is similarly used for drawing and design. Solidworks also offers design and simulation capabilities for use with Apple products.
Directional Survey provides surveying related capabilities for iPad, and "Elevation Survey" application is developed to support an efficient operation at construction sites. You will no longer need to carry around survey books, calculators and even pencils at the sites as this application will replace all these tools. Once you enter values measured by leveling staffs to the application, it does the calculation automatically. You can also save the survey results in the application, and the data can be retrieved in the image file or .csv formats," the authors state.
While some of the many applications available for use are robust, others appear elementary. That will likely change over time as more innovation and development takes place.
Without a doubt the latest Apple announcement is more directed to textbooks. In that case, the number and kinds of spatially related information books already available is large. Key benefits will be related to the interactive and simulation possibilities being included in teaching materials and written text for student use.
It is almost too difficult imagining how to write an interactive textbook to begin with, but that too will change over time. Think of the collaborative and interactive sharing that is potentially possible using these technologies. And… the increase in applications that are likely to emanate from greater exchange of ideas, knowledge and data.