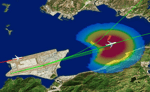 Topographic data can be collected through the use of various technologies. Multi-beam sonar techniques are used to develop subsea elevation models. Low altitude UAVs have been used to create digital elevation models (DEM) and low altitude photogrammetry , like Leica Photogrammetry Suite has also been used to create DEMs. RhinoTerrain, for example, includes a plugin that directly connects that software to Google Earth.
A key point to working with topographic data is the quality of the data. As with most geospatial data, the highest quality results are achieved with the highest quality topographic data. A good example of this the recent decision by Geoimage of Australia to begin reselling Intermap NEXTMap data. "Intermap collects elevation data aerially, using aircraft equipped with Interferometric Synthetic Aperture Radar (IFSAR) technology and supplements this with satellite acquired data to generate uniform, high-resolution 3D digital models and orthorectified imagery of the earth's surface."
High quality topographic data is important in many applications. It is hard to imagine laying pipelines or building roads or developing architectural plans without high quality topographic data. For other applications, such as disaster and relief, topographic data of high quality is also important, particularly where earthquakes, flooding, tsunami and landslides are prevalent.
———————
Image: Hong Kong Airport noise analysis incorporating topographic data.
www.airportnetwork.com