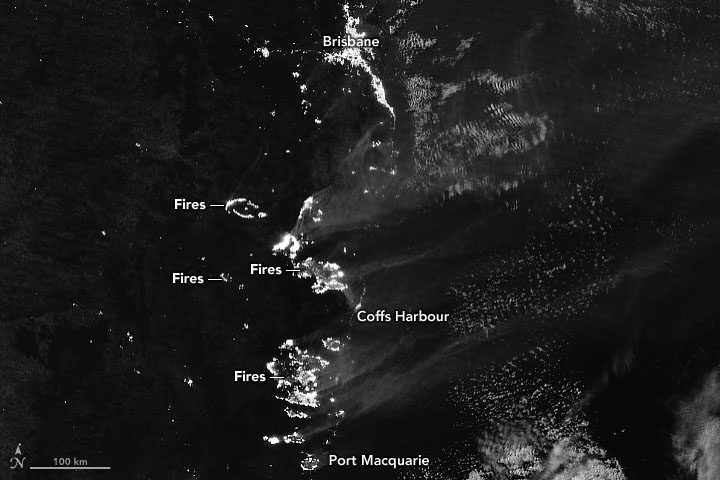 Bushfires are still raging in Australia, particularly along the east coast of New South Wales (NSW) and Queensland. The leader of the rural fire service told media that this could be "the most dangerous bushfire week this nation has ever seen," and the NSW premier has declared a state of emergency.
At least six million people in the region were facing extreme bushfire weather—strong winds, low humidity, high temperatures—as the week began. Fire agencies warned of "catastrophic" fire danger in the Greater Sydney and Greater Hunter regions and in Illawarra/Shoalhaven. "Extreme" fire danger was forecast for the North Coast, Southern Ranges, Central Ranges, New England, Northern Slopes, and North Western. Weather forecasters predicted that not a drop of rain was likely to fall on mainland Australia on November 11.
Approximately 600 schools in Sydney and other cities and towns were closed due to the fire threat. At least three people have died, and 150 homes have been destroyed, according to Australian media.
On Nov. 9, 2019, the Visible Infrared Imaging Radiometer Suite (VIIRS) on the NOAA-NASA Suomi NPP satellite got a nighttime view of the fires raging in Queensland and New South Wales. The accompanying image was acquired with the VIIRS "day-night band," which detects light in a range of wavelengths from green to near-infrared and uses filtering techniques to observe signals such as city lights, auroras and wildfires.