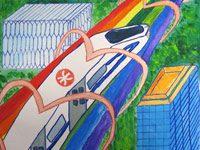 The Guangzhou – Shenzhen – Hong Kong Express Rail Link in Hong Kong is a large integrated rail project involving feasibility, planning, construction, operation and maintenance. It will include a wide variety of geospatial technologies including surveying, CAD design, land use planning, signaling, scheduling, operational and infrastructure data management. A schedule of the proposed work plan is available online.
General View of Pat Heung Adit – Image: HK Government
A 26 km long tunnel is part of the construction plan and will begin this year. The project is estimated to cost HKD$ 62.4 billion with an 11 hectare Terminus in West Kowloon.
The project included the use of cartographic products throughout the early discussion phases in communities throughout the region. These maps described the overall project, corridors, land use and rights-of-way.
Three-dimensional surveying technologies are being used for all aspects of construction, and the Terminus design will also include collaborative approaches.
Once completed the northern terminal in China, will inter-connect with major country-wide high-speed rail projects across China. A trip from Hong Kong to Beijing will take 8 hours and a trip to Shanghai will be around 6 hours in length.
Image Insert Courtesy MTR: Prize Presentation Ceremony and Fun Day for Kwai Tsing District XRL Site Hoarding Design Competition