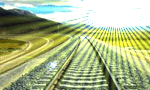 The UIC indicates that Asia is poised for significant growth when it comes to high speed rail. Some high speed lines have already been completed, many others are in development, and yet others are being upgraded.
Examples include the Kunming-Singapore high speed rail, the China- Burma Line, the China-Laos Line, the nine city South China Interconnection, the China Thailand Line, and a Malaysia-Singapore high speed link.
The shift to high speed rail service provides many advantages to air, car and other transportation services due to it's lowered energy use per kilometer, decreased noise levels, smaller carbon footprint and decreased environmental impacts. Rail is becoming a major competitor to other forms of transportation because users find it efficient, timely and reasonably priced – and in many cases without disruption. It has been estimated that $50B USD has already been spent on rail development in Asia.
As these large infrastructure projects start, the need for integrated communications, collaboration and data sharing are high priorities. That in turn leads to the awareness for high interoperability that requires each phase of these projects to inter-connect and share information – often through field handheld devices capable of handling spatial other geomatics data.
The kinds of information being shared include survey data, remote sensing data or airborne imagery, lidar data, engineering design and drawings as well as data pertaining to train operations and maintenance such as signaling, alignment, timetabling etc.
These projects move along faster due to geomatics technologies and spatial data sharing as participants can work within similar workflows and capture / use information effectively.
High speed railways also require improved accuracy when it comes to design and construction. Tracks need to be placed accurately, aligned and based on survey control that can further be used to drive construction equipment and other operations.
In the extended phases of these operations we are likely to see improved interfaces and mobility applications that connect people to high speed trains with improved technologies and services.