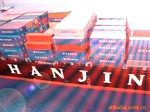 It has been estimated that about 200 large freight carrying vessels are travelling the East Sea daily. These ships are coming from and going to all places around the globe as Asian countries continue to experience higher growth, ranging between 5-10% GDP in many places.
In Vietnam, for example, efforts are being increased toward education. New graduates are needed in coastal and maritime positions. Island management, geologists and mineral engineers are all needed in these areas as new ports and and other infrastructure are being constructed to support ocean-going vessels.
About one-fifth of the East Sea's 3.5 million square kilometers is continental shelf – shallow waters that favor exploration and infrastructure development. GIS, remote sensing, GNSS tracking and positioning, airborne aerial surveys and the development of inter-connected maritime information technologies are all combining as sea traffic expands.
These areas also contain many coral reefs that requirement appropriate management with respect to development, to ensure their sustainability and survival.
Some have speculated that liquified natural gas (LNG) will move across the East Sea at a growing rate as energy needs also expand. This could lead to the development and construction of underwater pipelines and or the construction of unique LNG carrying ships.
While tensions remain with respect to boundaries of the East Sea, the potential for geospatial technologies and applications to expand across the region is immense.