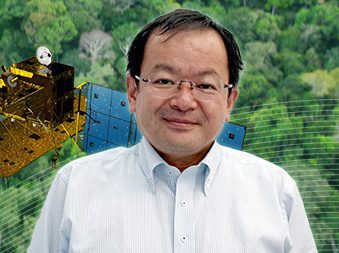 The Japan Aerospace Exploration Agency (JAXA) interviewed Kenichi Shishido, who is in charge of forestry and conservation projects at the Japan International Cooperation Agency (JICA), an independent administrative institution that coordinates official development assistance for the government of Japan. The agency uses data collected by JAXA's Earth-observation satellites to plan its activities in the areas of forestry and conservation, water resources, disaster management and cartography.
"About 70 percent of Japan's land is covered by forests, so our country is quite advanced in terms of experience, knowledge and technology in forest management," said Shishido. "When we help developing countries establish forest-management practices, we bring all that experience."
Uncontrolled or illegal logging has been accelerating. Every year around the world, about 3.3 million hectares of forest are lost. Forests absorb carbon dioxide, so protecting them is an important element of preventing global warming.
"We built a system that could immediately detect an illegal-logging site using data from JAXA's Advanced Land Observing Satellite (ALOS)," noted Shishido. "The total area of the Brazilian Amazon is about 3.5 million square kilometers. It is such a wide region that to create an overview map, you need to synthesize about 300 scenes of satellite data. Once you have that map, by comparing images taken at different times, you can see where trees have been cut down. ALOS observed the Amazon every 46 days, and JAXA provided all the images to Brazil free of charge."
Click here for the full interview.