Monday, June 24th, 2013
GeoMetWatch Corp today announced it has entered into a Space Act Agreement with NASA to provide four years of Earth observation and weather data from GeoMetWatch's first Sounding and Tracking Observatory for Regional Meteorology (STORM) mission on...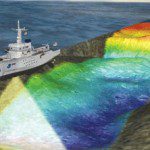 Friday, December 9th, 2011
Marine surveys are conducted to acquire underwater geophysical information. In most cases, marine surveyors will acquire 3D data using sounding equipment. Sound reflections bounce off of underwater surfaces and are returned to survey ships detectors along carefully...