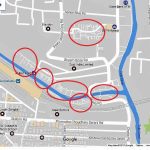 Tuesday, May 30th, 2017
A total of 1.4 million people live in the informal settlements of the West Bengal city of Kolkata, which represents around 30 percent of the urban population. Up until recently, these residents had no addresses accessible via...
Wednesday, October 17th, 2012
It's a day he will never forget. 13-year-old Salim Shekh still recalls how disappointed he felt when he searched for his neighbourhood on Google maps and realized that it didn't exist. Though the Rishi Aurobindo colony in...