Wednesday, November 16th, 2011
At this year's Big 5 in Dubai from 21st until 24th of November 2011, MOBA will be presented at booth Zabeel K114 with its latest technologies. MOBA shows the excavator systems Vision LINK and Vision 3D as...
Tuesday, July 5th, 2011
Garmin International Inc announced it has updated its GHP 12 Marine Autopilot System to support powerboats with both solenoid-driven and cable-actuated steering systems, as well as those with third-party hydraulic pumps. Prior to this update, the...
Sunday, June 19th, 2011
We are now offering a great Trade-In for your older 3D machine control systems! For a limited time, Topcon is offering a huge Trade-In for any 3D Motorgrader, Dozer or Excavator system from any manufacturer.
Tuesday, April 26th, 2011
Trimble announced that it has established four SITECH Technology Dealers in China. SITECH North China, SITECH South China, SITECH East China and SITECH West China join the premier network of SITECH dealerships—the first fully dedicated global distribution...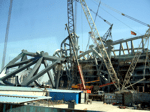 Thursday, January 20th, 2011
Construction and infrastructure is poised to expand across Asia in 2011. This growth will include many different types of infrastructure and engage a broad range of geomatics technologies and geospatial technology supported expansion. Emerging and Developing Asian...