Tuesday, November 5th, 2013
The Copernicus Master 2013, the European Earth Monitoring Competition has awarded prizes worth EUR 350,000 in nine categories.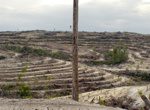 Thursday, October 20th, 2011
The European Union's Global Monitoring for Environment and Security (GMES) programme has recently concluded their GMES Ideas Challenge, which awards prizes to the best applications for new uses of earth observation images. The overall winner of this...