Thursday, June 5th, 2014
FieldAware, a leader in made-for-mobile, cloud-based field service automation solutions, has released new features that address productivity and safety functions for Oil & Gas exploration and production operations. FieldAware has added mapping by latitude/longitude to its mobile...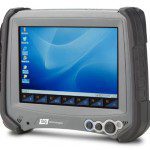 Tuesday, January 25th, 2011
Tablet innovator DAP Technologies today announced the availability of two new Windows CE 6.0-based rugged tablet computers. The voice-ready M8930 and M8940 models are the first tablets to incorporate breakthrough display technology that delivers maximum viewability in...