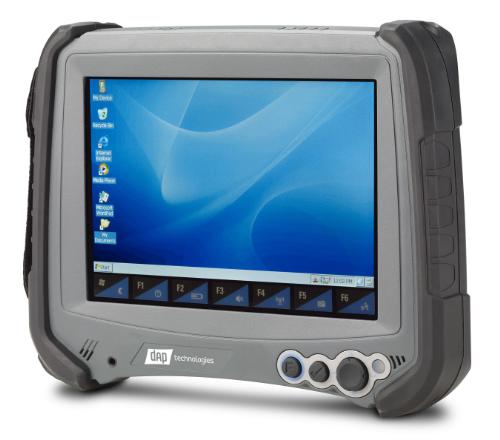 Both the DAP M8930 (a 7″ full-screen model) and the DAP M8940 (equipped with a 6.2″ screen and a 64-key QWERTY alpha-numeric keyboard) feature optically-enhanced touch screens that utilize ambient light to enhance viewability in all light conditions. Their ruggedness ensures they will continue working flawlessly in both indoor and outdoor settings, despite exposure to extreme temperatures, direct impacts, chemical spills, scratches, and other challenging conditions. The M8930 and M8940 conform to MIL STD 810F, are dust and water sealed to IP-67 standards and have been engineered to withstand multiple 4-foot drops.
Both tablets are backed by a 2-year manufacturer's warranty. "DAP was among the first companies to offer a rugged tablet computer," said Khalid Kidari, director of product management and marketing for DAP Technologies. "We have been perfecting the form factor, ergonomics and ruggedness for years. Our new M8930 and M8940 tablets offer unprecedented viewability, delivering the operational advantages of a large screen display while preserving the portability, modularity and ruggedness that make all DAP products so cost-effective and future-proof. Our new Windows CE 6.0 tablets are ideally suited to warehouse, trucking and field service applications, where systems are frequently exposed to rough handling and harsh environments."
Both tablets utilize Windows® CE version 6.0 (Microsoft's latest release) running on a Marvell PXA-300 624MHz processor with 128 MB SDRAM and ample memory for storing data locally, including 512MB SSD (Solid State Drive) and an expansion slot supporting up to 16GB. Both tablets are powered by dual LI/ION batteries; one internal and a second that can be hot-swapped as needed. Communications options include 3G/GPRS/GSM, Bluetooth and Summit wireless LAN 802.11b/g radios. DAP also offers integrated options that include a low-power SiRF star III 3GPS and 1D laser or 1D/2D imager scanners.