Monday, August 1st, 2011
As detailed in the August edition of Landwrap, the spatial parcel improvement (SPI) project captures and adjusts survey data from existing survey plans to improve the accuracy of the cadastre in high priority areas. The two-year project...
Thursday, May 26th, 2011
The registry will be kept by Real Property Cadastre and technical inventory center of State Committee on Property Issues. The State Committee states that it is necessary to introduce GIS (geographic information system) and coordination system of...
Wednesday, March 30th, 2011
SuperGeo Technologies officially announced its latest product - Mobile Cadastral GIS 3.0, to assist in field survey and cadastral navigation measurement. Since being first released in November 2010, Mobile Cadastral GIS has been utilized extensively.   In...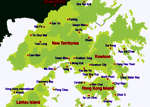 Thursday, March 17th, 2011
Hong Kong has a long history of mapping and surveying since the beginning of the colony. This history dates back as far as the Qin (221-206 B.C.) and Han (206 B.C. - 220 A.D.) dynasties. Initial land...