Saturday, February 7th, 2015
DUBLIN, Feb. 6, 2015—Research and Markets has announced the addition of the "Global 3D Laser Scanners Industry Report 2015" report to their offering.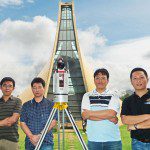 Wednesday, March 16th, 2011
Linkfast Technology Co., Ltd., a Taiwan-based survey solutions provider of Geographical Information Systems (GIS) data, and a reseller of 3D laser scanning technology, has joined the Pointools Partner Program in Asia. Pointools software is used by project...