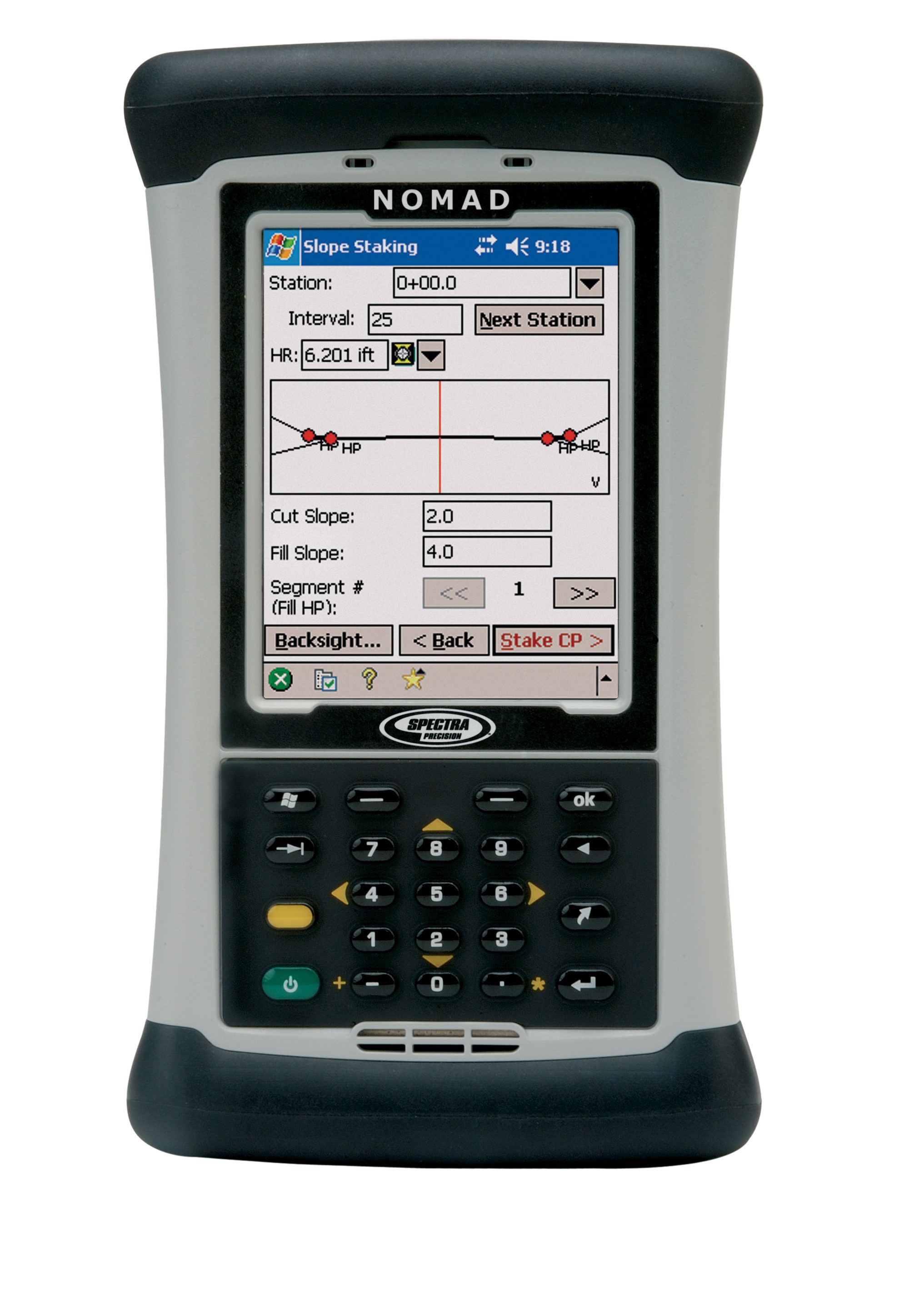 Spectra Precision Ranger 3 Series Spectra Precision now offers three Ranger 3 models—the 3L, 3XC and 3RC. These powerful data collectors come standard with an 800 MHz processor, 256 MB of memory, a full VGA display, integrated Bluetooth®, GPS, compass and 802.11 Wi-Fi.
Optional features, depending on the model, include a 3G GSM/GPRS/EDGE (WWAN) modem that is ideal for real-time GNSS workflows, a 5 megapixel camera to enhance data capture routines with images and a 2.4GHz robotic radio module to support robotic total station survey workflows.
Powered by Windows Mobile® 6.5 Professional operating system and a full ABC alphanumeric keyboard, the Ranger features the same ruggedness common to all Spectra Precision data collectors, which have an IP67 rating and meet MIL-STD-810G standard for drops, vibration and temperature extremes. Spectra Precision Nomad 900 Series Powered by an ultra-fast 806 MHz processor optimized for graphics processing, advanced caching and a proprietary high-speed journaling file system, the new Spectra Precision Nomad 900 series handhelds are among the fastest Windows Mobile® computers on the market today.
The Nomad 900 offers top-of- the-line performance combined with a 5200 mAh rechargeable long life lithium ion battery, up to 6 GB of Flash memory and a sunlight visible VGA touch screen display. In addition, users can take advantage of the Nomad 900 series CompactFlash (CF) and Secure
Digital (SD) slots to add more devices, such as SD/ SDHC memory. Built tough for everyday outdoor demands the Nomad 900 series have an IP67 rating and meet MIL-STD- 810F standard for drops, vibration and temperature extremes. Spectra Precision Survey Pro Field Software Survey Pro software is offered in different modules so surveyors can begin with one module and easily add features as needed. Advanced modules can be remotely installed via electronic upgrades.
In addition, Survey Pro software is available in multiple languages and on a variety of data collector platforms. Survey Pro is currently utilized by more than 40,000 customers worldwide for reliable and easy to use data collection, computation and field staking. Availability The Spectra Precision Ranger 3 and Nomad 900 models are available now through the Spectra Precision global dealer network. For more information visit: mailto:www.spectraprecision.com or email: [email protected]