The tool layers the technology of Esri and the functionality of Cityworks to spatially represent linear assets.
RICHMOND, Va.  — Woolpert has designed the Cityworks GeoPhoto Tool to enable field crews and end users to spatially view linear assets and relevant work order information at the exact location along each asset. The tool leverages the GIS capabilities of Esri with Cityworks asset management software functionality and allows work orders to be started, accessed and completed from the field.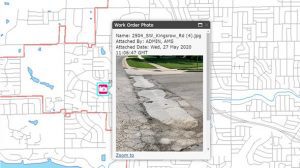 Woolpert Systems Analyst Ean Hamilton said, with this tool, field crews take a picture at a given point along a linear asset and upload it into the work order. The image conveys the condition of the asset when the work order was filed. It is pinned to the map by utilizing the photo's geospatial coordinates along the linear asset and is compiled with relevant project data.
"When the photo of the work order is selected, it lists specific details of that asset, including a timeline and history, as well as what work needs to be done," Hamilton said. "The tool also functions using saved searches and helps identify regional project trends. If I'm doing a pavement assessment and I have 15-20 photos showing work events on one street, you know that's a problematic area. By understanding the greatest need specific to location, cities can identify trouble spots and prioritize and allocate spending specific to that need."
Woolpert Technology Services Market Director Jen Kouns said spatially viewing issues along a linear asset has been a consistent hurdle in work order management, since entering multiple issues that occur along one segment can be cumbersome in the field. The Cityworks GeoPhoto Tool provides a comprehensive, accurate and current record of each issue that occurs along the segment, thus providing a deeper understanding of the required maintenance for that asset.
"In some situations, there are legal actions that demand documented and defensible data specific to the maintenance performed," Kouns said. "That need underscores the importance of having accurate legacy data that can be accessed by management to alleviate these known issues."
Kouns said the tool, which can be installed for Cityworks users in less than an hour, was created in response to client need and is already receiving positive feedback. She thanked the many analysts and developers at Woolpert who worked with Cityworks and Esri to create this tool.
"We've been partners with both Esri and Cityworks for many years," Kouns said. "Being able to work alongside these industry leaders and help develop integrated solutions for our clients is our primary objective, so developing a tool like this that provides the next innovative step in work order management is gratifying."
For more information, email [email protected] or [email protected].
About Woolpert
Woolpert is committed to a vision to become the premier architecture, engineering, geospatial (AEG) and strategic consulting firm, and one of the best companies in the world. It's a vision we've been fine-tuning for decades. It guides our decisions and investments, provides our clients with optimal solutions and offers our employees unrivaled opportunities. Woolpert is recognized as a Great Place to Work by its employees and is America's fastest-growing AEG firm. With more than a century of experience, close to 1,000 employees and 30 offices, Woolpert supports public, private, federal, and U.S. military clients nationally and around the globe. For more information, visit woolpert.com and connect with us on LinkedIn, Twitter, Facebook and Instagram