GSSI, the world's leading manufacturer of ground penetrating radar (GPR) equipment, is pleased to announce that Amber Onufer is expanding her role at the company. In addition to supporting GSSI's Geophysical and Environmental markets, she will also manage business operations in Central and South America.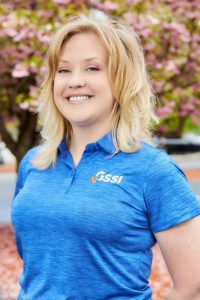 "Throughout Central and South America, private and government sectors are realizing the potential of GSSI GPR systems in a variety of industries, including construction, geophysics, and mining," said Dan Welch, Americas Sales Manager. "To ensure our partners and customers have the support and service they need, GSSI has been working to grow our knowledgeable and experienced staff by adding individuals like Amber in the region. Her technical background, in addition to her sales experience, make her a valuable asset to our team."
Amber joined the GSSI team in 2019 as a Technical Sales Support associate. After excelling in that role, she is now expanding her capabilities in the South American sector. With a bachelor's degree in geology, Amber has nearly a decade of experience with ground penetrating radar technology. In prior roles, Amber provided consultative sales, customer training, applications engineering, and research and development. She has consulted with clients on a variety of academic and government projects, including the United States Geological Service (USGS) Charleston earthquake study; USGS and Water Missions International well water identification in Kenya; USGS UAV Geophysics Regatta; Lawrence Livermore National Laboratories GPR training; and NASA shuttle launch station facility maintenance.
"Connecting customers with the right GPR equipment has always been important to me, especially when that means building relationships and exploring the boundaries of the technology," Onufer said. "I'm excited to take on this new role because GSSI offers so many innovative solutions to the applications they serve, and I can't wait to see where our customers take the technology next."
About GSSI
Geophysical Survey Systems, Inc. is the world leader in the development, manufacture, and sale of ground penetrating radar (GPR) equipment, primarily for the concrete inspection, utility mapping and locating, road and bridge deck evaluation, geophysics, and archaeology markets. Our equipment is used all over the world to explore the subsurface of the earth and to inspect infrastructure systems non-destructively. GSSI created the first commercial GPR system 50 years ago and continues to provide the widest range and highest quality GPR equipment available today.