On 24 February, Fugro in France relocated to a modern office space, Espace Le Carillon, close to the central business district of La Défense in Paris, thus achieving another milestone in its ambitious plan to enhance Fugro's presence in France.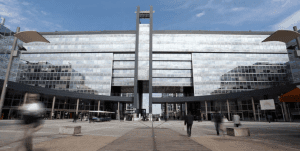 Said Claude Descharles, Director for France and Southern Europe: "This new modern office space accomplishes two important objectives. Firstly, we are closer to our strategic partners, which facilitates stronger business relationships in key sectors where we offer core expertise, such as civil engineering, renewable energy, nuclear energy, and infrastructure. Secondly, the new office provides a more comfortable environment to our employees, who are the reason for our success in France. It is an exciting time to be part of Fugro!"
The recent office move follows on from the July 2019 merger of Fugro's four French entities into a single comprehensive business unit operating under the sole name of Fugro. Building on over 20 years of business in France, this new office location brings together colleagues from local centres of geotechnical excellence to improve Fugro's unique 'Triple A' approach of acquire, analyse and advise. As well as showcasing Fugro nationally as a market-leader with global resources at its fingertips, Fugro in France is also Fugro's local point of access to Africa and French-language communities around the world.
The new office address is: Fugro, Le Carillon, 5-6 Esplanade Charles de Gaulle, 92000 Nanterre, France.
About Fugro
Fugro is the world's leading Geo-data specialist, collecting and analysing comprehensive information about the Earth and the structures built upon it. Adopting an integrated approach that incorporates acquisition and analysis of Geo-data and related advice, Fugro provides solutions. With expertise in site characterisation and asset integrity, clients are supported in the safe, sustainable and efficient design, construction and operation of their assets throughout the full lifecycle.
Employing approximately 10,000 talented people in 61 countries, Fugro serves clients around the globe, predominantly in the energy and infrastructure industries, both offshore and onshore. In 2019, revenue amounted to EUR 1.6 billion. The company is listed on Euronext Amsterdam.