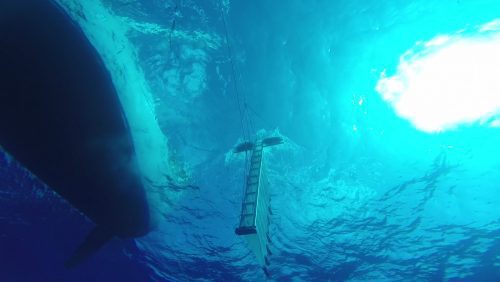 Every year, about 8 million tons of plastic enters the oceans. Part of the trash accumulates in five ocean garbage patches, and plastic in these patches breaks down into tiny plastic particles that can be eaten by fish and birds, thereby entering the food chain.
To help fight this growing environmental catastrophe, the Ocean Cleanup's Aerial Expedition uses a combination of experienced human observers and advanced sensors during low-speed, low-altitude survey flights to count the debris in the Great Pacific Garbage Patch. The sensors also will be used to convert this count to a weight estimate by registering the size of the found objects.
To properly measure how far the plastic reaches under the surface, The Ocean Cleanup project used the Optech Coastal Zone Mapping and Imaging Lidar (CZMIL), which can detect objects to depths of tens of meters.
As part of the expedition, sensors surveyed hundreds of square kilometers of the patch aboard a C-130 Hercules aircraft. Optech HydroFusion software will combine lidar data with information from the CZMIL's RGB camera and an ITRES SASI-600 shortwave infrared sensor to create the first 3D visualization of the patch, and help identify the number, size and type of plastic objects present.
"We wanted state-of-the-art sensor technology to supplement the visual observations of our survey team with the data from our Mega Expedition, and to finalize the first detailed plastic data map of the Great Pacific Garbage Patch," said Boyan Slat, CEO and founder of The Ocean Cleanup.