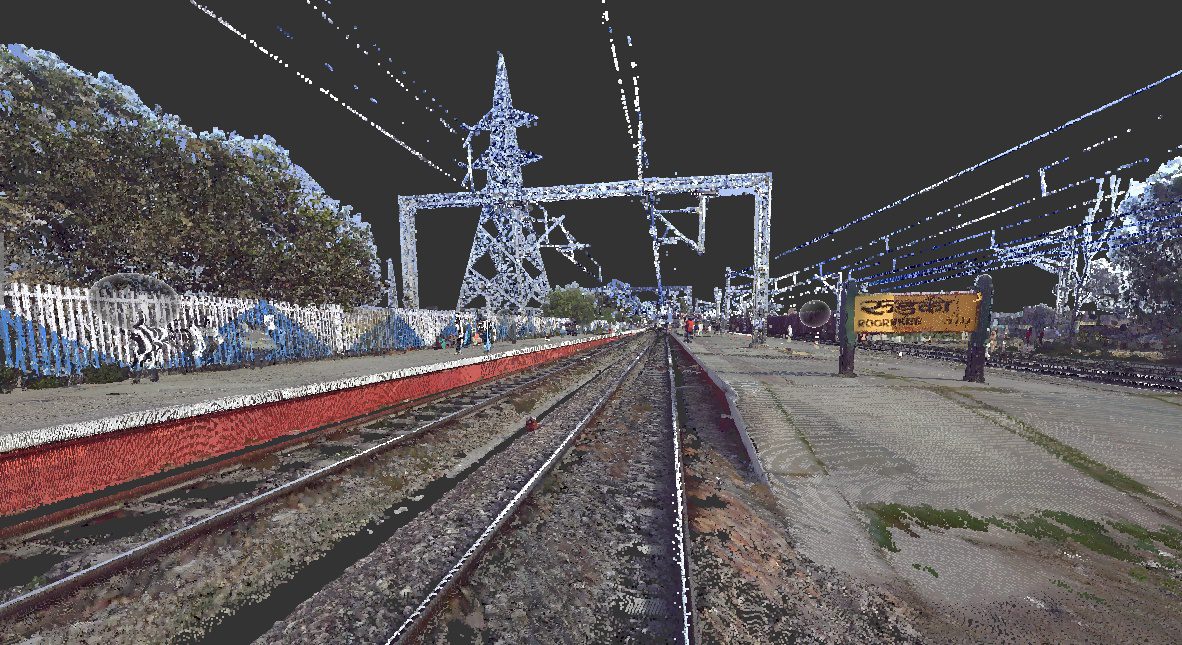 The importance of having the right equipment for a job cannot be underestimated. In a surveying and mapping project, the access to advanced 3D laser scanning technology can make a world of difference to the study outcome. A group of researchers from the Indian Institute of Technology Roorkee (IIT Roorkee), honored by the India Government as an Institute of National Importance, experienced this first hand when conducting a study on India's railway infrastructure.
Dr. Kamal Jain, Professor from the Department of Civil Engineering, IIT Roorkee, initiated the research project in hopes of providing the Ministry of Railways with insights on India's current railway infrastructure and recommendations for improvements on the tracks, signaling, and stations and terminals. Dr. Jain, shared, "So far, no other institution has conducted a similar study in India. This project has huge potential in shaping the country's future railway infrastructure, and it is imperative that we present results that are most accurate and objective, so as to facilitate progress."
The First Step  
An expert in surveying and photogrammetry, Dr. Jain understood that one of the first and most crucial steps in carrying out the research was to select a reliable and effective surveying solution. A part of Dr. Jain's research work revolved around comparing traditional photogrammetry with modern laser scanning solutions, and it was clear to him that the success of this project would require a high-precision, high-speed device.
Scanning an entire railway platform with photogrammetry can be a time-consuming activity as complex calculations are involved. Additionally, the research team had to take into account several considerations, including overhead power lines, entities on the railway platform (e.g. escalators, shops, and information centers), diversions on track, and the frequency of arriving and departing trains.
For these reasons, and for the fact that a large area of study was involved, Dr. Jain decided on utilizing laser scanning technology. The research team at IIT Roorkee had ready access to the FARO Laser Scanner Focus3D X Series as the university had linked up with FARO earlier, to provide students with a first-hand experience of 3D measurement and documentation solutions.
"It's a good thing that our students get to utilize some the latest laser scanning technology available in the market. Considering the scan volume and complexities involved, as well as the level of accuracy we were gunning for, the Focus3D was the obvious choice. Most importantly, it could provide us with a much-needed time advantage for this project, accelerating the research process," Dr. Jain explained.
FARO's Focus3D > Photogrammetry
Designed for fast and exact three-dimensional documentation, the FARO Laser Scanner Focus3D X 330 opened up a world of possibilities for the research team at IIT Roorkee. The compact and lightweight Focus3D enables indoor and outdoor scanning, performing well even in direct sunlight. This feature proved to be vital as the team can carry on with data acquisition, regardless of lighting conditions.
In addition, the range and accuracy levels of the Focus3D also gave the research team confidence that they would reap the type of results they needed. Featuring an extra-long scanning range from 0.6 m up to 330 m, the Focus3D has a distance accuracy of up to 2 mm, which was exceptionally useful for the team's application, given that they needed to capture minute details for the railway research.
Using the Focus3D, Dr. Jain and his research team was able to completely scan the Roorkee Railway Station and its surrounding areas in a matter of 10 days. In order to capture as-built documentation on all aspects of the railway system, scans had to be taken from different angles, and the Focus3D had to be constantly repositioned. In total, the team obtained nearly 50 scans that covered a distance of over eight kilometers, with each scan taking only 30 minutes from set-up to completion. In a typical day spent onsite for data collection, the research team conducted six to seven scans, concluding the scanning process within 10 days. Dr. Jain added, "If not for the portable Focus3D and its accompanying SCENE software, we might have had to spend 30 days outfield just to collect data. This is a vast improvement!"
Establishing the Benchmark
As the Government contemplates doubling existing railway lines, the research results will influence future railway infrastructure strategies for India. "Knowing the urgency and importance of this research, we strived to depict a most accurate presentation of our current railway situation. The Focus3D enabled us to accurately capture scan data quickly, and it was an ideal addition to this project," Dr. Jain shared as he highlighted the high level of accuracy and documentation speed of FARO's scanner.
Apart from the added advantage of providing point cloud data simultaneously with every scan, the Focus3D also offered IIT Roorkee with a complete, stitched 3D map. When shared with the Government, this data can be easily integrated into a 3D smart city data file for the country.
Dr. Jain concluded, "It is easy to see why the Focus3D is so popular worldwide. This project was initially considered challenging in terms of the duration. However, the device provided such a tremendous amount of advantage that we were able to finish our scanning and documentation tasks efficiently. No doubt, we would definitely use the Focus3D again in future surveying projects."
###
About The Indian Institute of Technology Roorkee
Indian Institute of Technology Roorkee (IIT Roorkee) is one of India's leading institutes in higher technological education, engineering, basic and applied research. Since its establishment, IIT Roorkee has played a vital role in equipping students with technical knowledge. Ranked amongst the best technological institutions in the world, IIT Roorkee has contributed to all sectors of technological development. In 2001, an Ordinance was issued by the Government of India, declaring IIT Roorkee as the nation's seventh Indian Institute of Technology. The Ordinance was then converted into an Act by the Parliament to make IIT Roorkee an "Institution of National Importance".
Further information: www.iitr.ac.in/
About FARO
FARO is the world's most trusted source for 3D measurement, imaging, and realization technology. The Company develops and markets computer-aided measurement and imaging devices and software. Technology from FARO permits high-precision 3D measurement, imaging and comparison of parts and complex structures within production and quality assurance processes. The devices are used for inspecting components and assemblies, rapid prototyping, documenting large volume spaces or structures in 3D, surveying and construction, as well as for investigation and reconstruction of accident sites or crime scenes.
FARO's global headquarters are located in Lake Mary, Florida. The Company also has a new technology center and manufacturing facility consisting of approximately 90,400 square feet located in Exton, Pennsylvania, containing research and development, manufacturing and service operations of its FARO Laser TrackerTM and FARO Factory Array Imager product lines. The Company's European regional headquarters is located in Stuttgart, Germany and its Asia Pacific regional headquarters is located in Singapore. FARO has other offices in the United States, Canada, Mexico, Brazil, Germany, the United Kingdom, France, Spain, Italy, Poland, Turkey, the Netherlands, Switzerland, India, China, Malaysia, Vietnam, Thailand, South Korea, and Japan.
Further information: www.faro.com/india