Tuesday, October 2nd, 2012
The 35th International Symposium for Remote Sensing of the Environment (ISRSE35) is to be held in Beijing from 22-26 April, 2013. This is the first symposium in the series to be held in China. The first...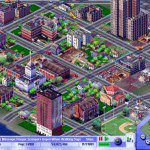 Thursday, September 16th, 2010
The 20th century electricity network was not designed for our 21st century Wii and plasma TV lifestyle and the expectation of uninterrupted power for our computers.With more extreme summer temperatures, houses without eaves that are locked up...

Tuesday, August 31st, 2010
At last week's GITA conference in Brisbane Australia John Culleton, CEO of the Colleambally irrigation area set about busting some commonly held myths about irrigation. Colleambally irrigates 300,000 hectares in Australia's Murray Darling Basin where farmers grow...

Sunday, May 2nd, 2010
Keynote speaker at the XXIV FIG Conference in Sydney was Tim Flannery, writer, professor and conservationist and "one of the great explorers of modern time" according to Sir David Attenborough. Expanding on the conference theme "Facing the...