Thursday, June 6th, 2013
MicroSurvey, the maker of MicroSurvey CAD and the MapScenes System, announces the release of three new software versions optimized to make full use of datasets from the new Leica Nova MS50 MultiStation. MicroSurvey CAD Ultimate 2013, MicroSurvey...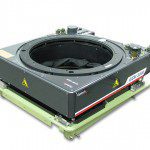 Tuesday, October 9th, 2012
Optech is pleased to announce the release of a gyro-stabilized survey solution that incorporates both active and passive Optech airborne sensors in one multi-sensor configuration. This powerful sensor configuration will significantly increase the data collection efficiency, productivity...