Monday, November 21st, 2011
Leica Geosystems is pleased to release version 4.0 of the easy-to-use Leica SmartWorx Viva onboard software. This new version is packed with exciting new features to make data collection and stakeout even simpler and even more productive....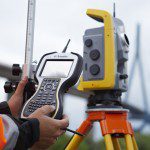 Wednesday, January 19th, 2011
Trimble introduced today its next generation field device—the Trimble® TSC3 controller. As part of Trimble's portfolio of Connected Site™ survey solutions, the new controller allows surveyors and geospatial professionals to collect, share and deliver data for improved...