Friday, February 14th, 2014
The Indian Space Research Organisation (ISRO) has announced that it has been chosen by China for the launch of three DMC-3 Earth observation satellites for China by the end of 2015. ISRO's Polar Satellite Launch Vehicle (PSLV)...
Tuesday, October 9th, 2012
Surrey Satellite Technology Ltd (SSTL) is undertaking a project to assist geospatial information provider RapidEye AG in upgrading and consolidating its ground station facilities. Engineers from SSTL's Ground Systems Group are providing a new and upgraded Spacecraft Control...
Thursday, September 13th, 2012
Sir Martin Sweeting, Executive Chairman and founder of Surrey Satellite Technology Ltd (SSTL), yesterday accepted the 2012 American Institute of Aeronautics and Astronautics (AIAA) Space Systems award for the Disaster Monitoring Constellation (DMC).
Wednesday, August 10th, 2011
SSTL has today announced that it will launch the NigeriaSat-2 and NigeriaSat-X satellites on behalf of the Nigerian National Space Research and Development Agency (NASRDA) by a Dnepr launch vehicle from Yasny, Russia 17th August...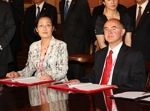 Thursday, June 30th, 2011
The UK-based satellite imagery provider DMCii, along with parent company and satellite builder Surrey Satellite Technology Ltd., will build and deploy a constellation of three earth observation satellites for Beijing-based company Twenty First Century Aerospace Technology Company...