OceanWise was invited to East Asia for a second time to deliver a course on 'Marine Data Management, Database Design and Marine SDI'. The invitation by the East Asian Hydrographic Commission (EAHC) follows the successful...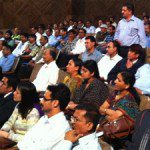 Thursday, August 30th, 2012
The district of Nainital in the Uttarakhand State of India recently completed a needs assessment workshop for the development of a District GeoPortal to aid planning and administration. The purpose of the workshop was to present objectives...
Thursday, August 23rd, 2012
The National Mapping and Resource Information Authority (NAMRIA) is embarking on a multiagency project that seeks to establish a web portal where users can have 24/7 access to geospatial information generated by various public sector organisations. The web...