Wednesday, November 6th, 2013
Boundless and CCRi announce the launch of a new platform for building geospatial capabilities on the highly distributed Apache Accumulo database. OpenGeo Suite with GeoMesa combines data management and publishing with big data analytics via GeoMesa, a...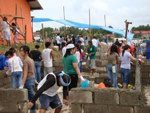 Wednesday, November 2nd, 2011
The 'Grassroots GIS' research project is working to develop low-cost mapping and publishing methods for slums and slum-upgrading projects in Manila, financed by the School of Design and Environment, Department of Architecture, National University of Singapore (NUS)....
Sunday, July 10th, 2011
Through an agreement between TerraGo and Adobe, TerraGo V6 Publisher and Composer software will empower every producer of TerraGo GeoPDF maps and imagery to automatically enable the extensive markup and collaboration capabilities of Adobe Reader and TerraGo...
Tuesday, January 8th, 2008
A new edition of the Times Comprehensive Atlas of the World has just been published. The first edition for the new century is an advertisement for the power and beauty of GIS. Since John Bartholomew...